Just got a new microphone and who would have thought such a great piece of equipment would have such an awesome name! Blue Snowball!
Anyway, here it is: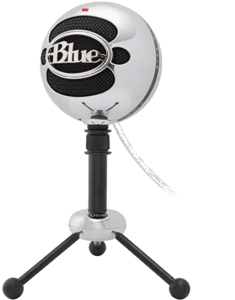 This thing is about eight inches tall or so, stands on a tripod (kind of reminds me of R2D2 from Star Wars) and come in different colors (the one I'm using is black).
There are no controls on it – it simply plugs into a USB port and the levels are controlled by Windows.
Color me very pleased with the quality of this device. The sound is crystal clear.
Overall I give this device two thumbs up!